Club Hipico Benisssa
Club Hipico Benissa | Horse Riding Calpe | Costa Blanca
Club Hipico Benissa is a horse riding stables and a equestrian centre in Benissa, between Moraira and Calpe, with classes and activities for all levels.
They have a highly experienced team of qualified multilingual Instructors and offer a variety of equestrian activities on their Purebred Spanish horses including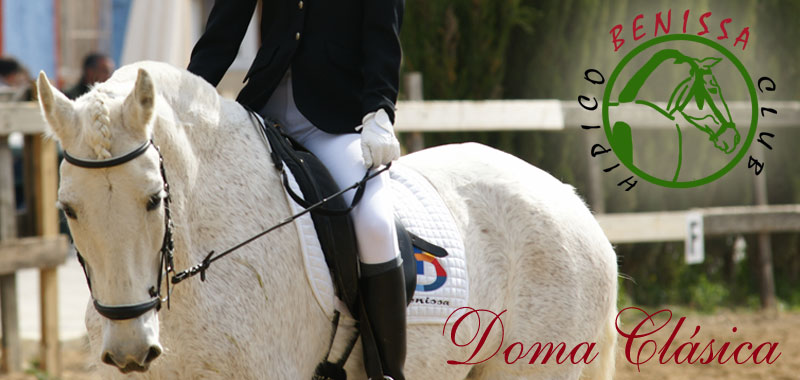 * Children's lessons
* Stable management which includes: diet, horse care, tack, etc.
* Dressage competition
* Sale of foals and Purebred Spanish horses
* Livery
* Horse transport service
* Stud service
* Equestrian shop
Horse riding and Pony Trekking  CLUB HIPICO BENISSA offer horse back trekking along paths where you can enjoy the wonderful landscape and scenery of the
Costa Blanca. Routes include -Peña de Oltá (Calpe), Partida de Lleus, Llíber, Jalón, Gata, Parcent
Dressage  Dressage is a major activity of the club, and have highly qualified staff in this equestrian discipline.
Call Vincente for more information (0034) 965 731 832 (0034) 609 282 182 or email [email protected]
Directions
Address Partida de Senijola, 203720 Benissa-Alicante. ESPAÑA
To Locate the Club via GPS click the link      https://goo.gl/maps/MM8cEQu13S32
Traveling from Calpe take the N332 towards Benissa take the Jalon (Xalon) road CV750 to Jalon pass over the motorway bridge and  take the first road on the right and follow the signs to Hipico.
Traveling from Moraira past Benissa and take the Jalon (Xalon) road CV750 towards Jalon and follow signs for Hipico
 SUMMER SCHEDULE – June and September from 8:00 to 13:00 and 17:00 to 21:00;
July and August from 7:00 to 12:00 and 17:30 to 21:30;
WINTER TIME  October and April and May from 9:00 to 13:00 and 16:00 to 20:00;
November to March from 9:00 to 13:00 and 15:00 to 19:00
Horse riding Calpe