How to apply for a Spanish Visa with Sun Lawyers
Sun Lawyers Javea | Lawyers, Legal Advice, Law Firms & Solicitors in Javea Spain
Learn everything you need to know about applying for a Non Lucrative visa in Spain, and more, direct from a Spanish lawyer! In our latest webinar, we've teamed up with the experts from Sun Lawyers to learn about how to get a visa in Spain. Mark McMillan and Jose Maria Lomax introduced us to Sue, who has recently been through the visa application process, and we talked about what you need to do to live in Spain after Brexit, the key things you might need to think about when applying for a visa, how long it takes, and much more.
Click the image below to watch their explainer video on the subject of visas and relocation with expert input from the team at Sun Lawyers.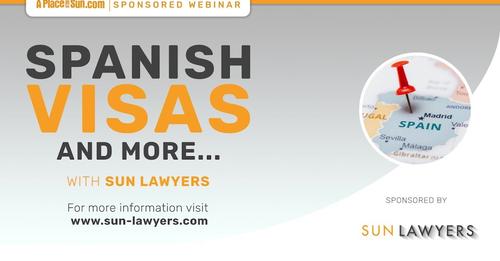 Sun Lawyers Javea
SUN LAWYERS RELOCATION SERVICES:
Sun Lawyers can help with your legal documentation if you are relocating to Spain.
Arranging your legal documentation is one of the most important steps you should take into consideration before moving to Spain. Knowing the type of documents you will need depending on whether you're from an EU or non-EU country is very important.
If you are thinking about relocating to Spain, it's important to seek independent legal advice in order to help you understand how you can apply for residency or citizenship and what will be expected of you when you become a resident.
Your Legal documentation is key to living in Spain:
Buying or selling property
Buying or selling a car
Paying Taxes
Becoming a resident
Gaining employment
Health and Social Security
SPANISH DOCUMENTS
Below are the main legal documents that are applicable to relocation services. The types of documents and the processes are slightly different depending upon whether you are an EU or Non-EU citizen.
EU CITIZENS
NON-EU CITIZENS
SPANISH VISAS
'GOLDEN VISA'
SPANISH CITIZENSHIP
SPANISH RESIDENCY
SPANISH HEALTHCARE
EU CITIZENS
The following are the main legal documents that are applicable to EU citizens within our relocation services:
NIE (Número de Identidad de Extranjero) – A certificate which acts as your fiscal number in Spain. You'll need this certificate to buy and sell a property or a car in Spain, access health services, pay tax or secure employment.
Residency Card (Tarjeta de residencia) – This is a card incorporating your NIE and your personal details. It is necessary for transactions where someone wants to see proof of your current physical address in Spain (e.g. banks, phone companies, etc). It's a credit card sized green card (with no photo). The law says you must apply for if you're living in Spain for more than 90 days.
Health Card (SIP Card) – The Spanish health card for non-EU citizens is accessible under certain scenarios. We will let you if you're eligible for it.
Whether you are looking to move to Spain or are already here and need some help with legal documentation, click the link below.
http://www.costablancaguides.com/listing/sun-lawyers-costa-blanca/
Sun Lawyers Javea
 Tag Lines: Costa Blanca Lawyers, Law Firms, Solicitors, Legal Services & Advice in Javea, English speaking lawyers in Javea, Spanish wills, Spanish inheritance laws, car accidents, Power of Attorney, criminal law, probate, immigration services, company formation, court matters